Nowadays, for every business directory and listing has become a vital aspect as it helps in targeting the right client in a specific area. It is the best way to fulfil the supply and demand of services and human needs in the particular geographical location. There is no doubt that directory and listing website's high demand has turned it into good revenue generator. Many people are leading their own listing website that helps users to find their service, product and jobs. If you also want to develop directory websites with powerful modules and advance features then you do not have to be proficient in coding or need to spent huge amount.
You can use various WordPress theme in this field and can add on various features in your directory website like quick search and Google maps without any restriction on number of listing. These directory and listing WordPress themes are very simple to use and can create a powerful directory website with your few clicks to drop and drop of features. Let's find out 10 best directory & listing WordPress theme to create your powerful website
Listable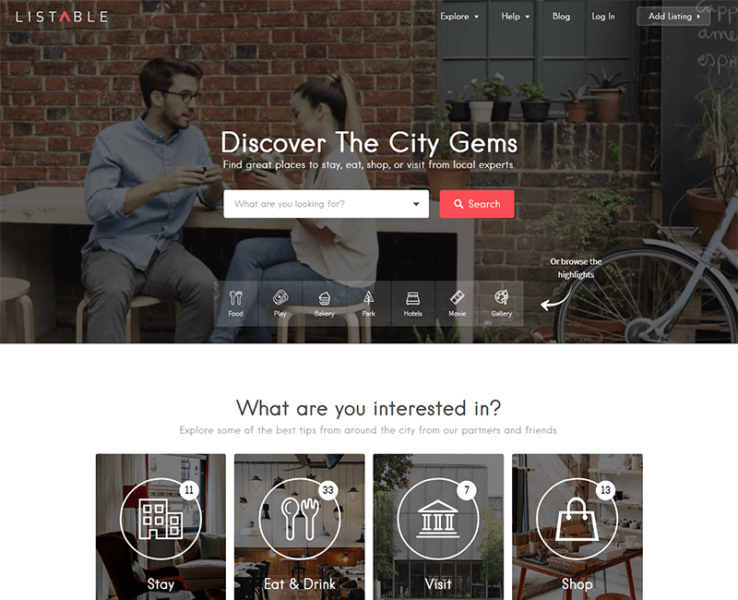 Listable is a prominent listing directory WordPress theme that helps in creating, managing and monetizing a local or global directory site with drag and drop feature. It offers advance filtering and search bar with custom fields with powerful field editor for each listing type. You can also customize the listing preview box, exclusively for each listing type. Apart from this you can also customize the explore page exclusively with custom facets for each recording type.
Listify
With Listify in less than ten minutes, you can create a fabulous, impressive and extraordinary featured directory website. You can add background video with Listify to influence your visitors. It offers you responsive design with quick search with Google map integrated with dragging and dropping the widgets. The category and review system will make your search easier. You will able to create a modern and beautiful WordPress directory website with its various plugins integrations and cool designs.
Listingpro
Listingpro WordPress theme is famous for its specific features in directory field.  Combining the category and location can narrow search results. It also provide feature to highlight some popular area in the grid layout. Users are provided with quick search option using a keyword. They can rate, review, vote and upload images, and much more.
MyListing Directory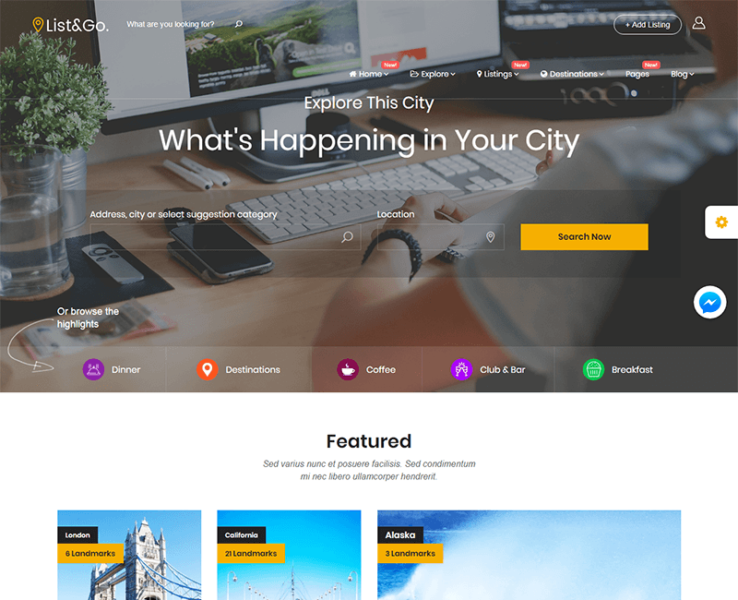 MyListing Directory is one of the renowned WordPress themes that enables create any type of directory or listing website design on the front-end by using the powerful front-end page builder.  You can find numerous drag and drop elements which are easy to use and customize. This theme offers you advanced listing type builder, powerful field editor, beautiful and easy to use interface, listing preview box, time kit contact form, review listing and many more features. Apart from these, one more very interesting thing that you can perform with this theme is bookmark listing which will helps the users to promote their businesses.
Wilcity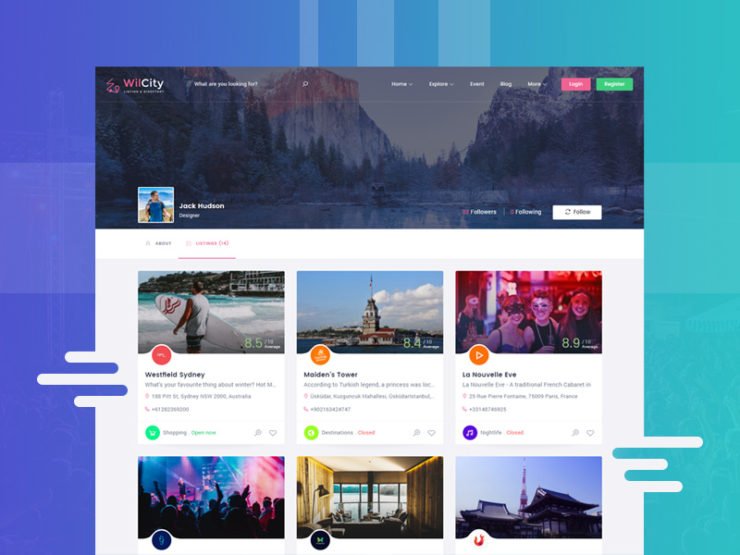 Like others Wilcity is also a local and geographical directory theme that offers to add unlimited listing types with its own unique design and functionality. It offers to create customized dashboard page for front end users, where you can integrate with Contact Form 7. It also offers to include latest blog posts widget. You can integrate your website with powerful field editor and bookmarking list.
ListGo
Listgo WordPress theme offers intuitive interface based on the quality of the content. It comes with two types of demos: a multipurpose design and another one for travel agencies, where one can showcase his or her best destination packages. The theme is simple to use by offering advanced search filters, full review and rating system, management system, built-in listing submission, automatic open/closed status and many more features.
Directory- Multipurpose WordPress theme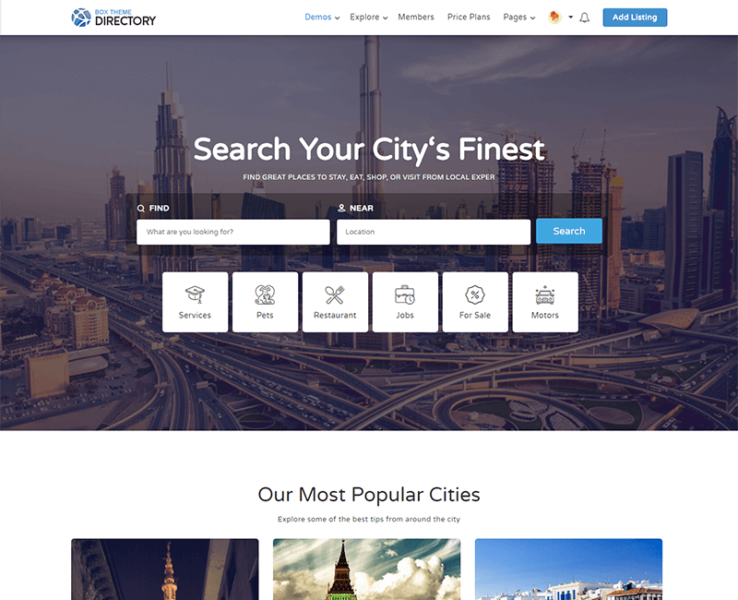 Directory- Multipurpose WordPress theme is full-width map header with easy-to-follow content organizer multipurpose theme. It offers an advanced search form with a review system and customizable lists. Filtering, editing, register ion and sorting everything is possible at front end. Creating Listing website of any business is possible with its advanced widget features. Best part about directory is that these themes are SEO ready.
DWT Listing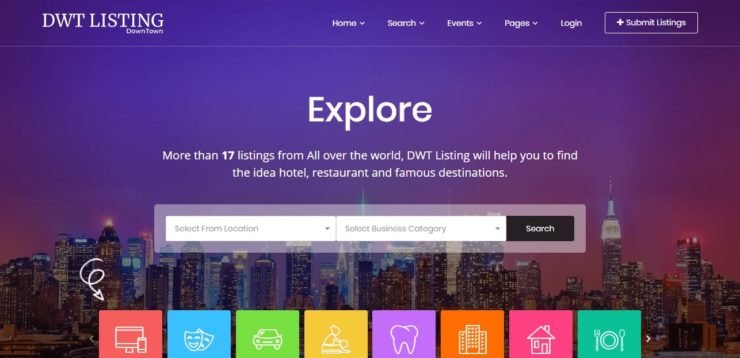 DWT Listing is a renowned WordPress Theme which offers powerful theme options to drag drop and create your listing website. You can find a range of features such as bookmark listing, rate listing, short code ready, background image parallax, bookmark listing and many more features. Apart from this, you can use single click demo import, contact Form 7 integration, contact Form widget integration and latest blog posts widget integration.
Citybook
Citybook WordPress theme has different layout styles with elegant professional appearance. It offers an interactive & accurate mapping feature, a sidebar, and attractive representative and responsive icons for each category. You can get a powerful admin interface which can be highly customizable with flexible listing option with no restriction on numbers.  Apart from these, you will be provided with built-in listing social share and 5 listing AD widgets that can help in business promotions.
Service Finder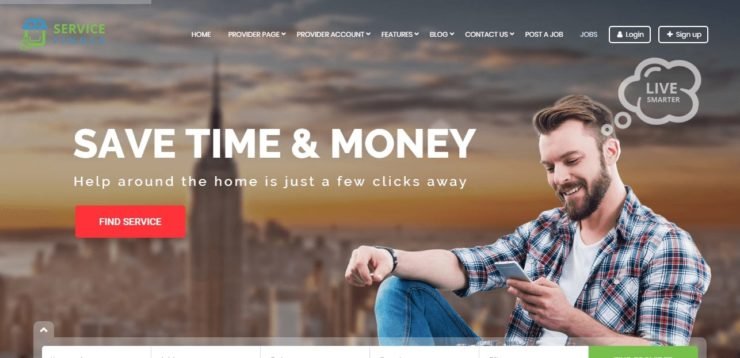 Service Finder is a powerful and advance features equipped advance WordPress theme. One can create their listing website whether being a business or Service providers of any category. You can consider this theme the best fit for customer as it offers an amazing and smooth management features such as time slots management for booking, profile management, booking management, unavailability settings, staff management, invoice generation and payment system, service areas and services, featured providers etc.
Service Finder
Since, you know the important of listing and directory of businesses, thus having a responsive and fully-featured interface is also mandate now. You can use the above mentioned WordPress themes to create well functioning & customized listing websites.